2020 Ford Bronco: News on the SUV's Return to Belleville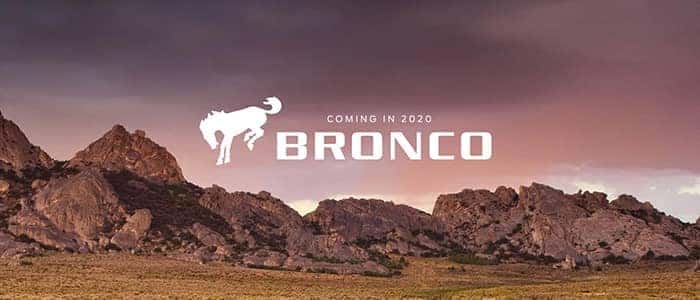 The 2020 Ford Bronco will be here sooner than you think. This classic American SUV originally was on the market from the sixties through the mid-nineties, and it defined what an off-road SUV should be. At Auffenberg Ford South Belleville, we know customers are getting excited for the Ford Bronco to join other SUVs like the Ford Escape or Ford Explorer. Check out this 2020 Ford Bronco preview today to find out what to expect from its design and off-road capability.
Off-Road Features
The experts at Autotrader expect the 2020 Bronco to compete with off-road vehicles like the Jeep Wrangler. This means it will probably include features like 4WD and a solid rear axle. That will make it a smart choice for off-road adventures near Columbia. An off-road specific trim like the Ford F-150 Raptor is likely to hit the market as well.
We have a bit more on what you can expect:
According to Autoblog, the Bronco will be available in two- and four-door body styles.
A performance hybrid model is expected as part of Ford's electric initiative.
In contrast to the Wrangler, the Bronco is designed for both off-road ability and high speed driving.
Performance and Design
While no final designs or specs have been released, Ford has provided a picture of the Bronco covered in a fabric sheet. It shows off a boxy design that references the classic Broncos of the 80s and 90s, while also resembling the 2004 Bronco concept last seen in the movie Rampage.
Motortrend has analyzed the available info and offers the following feature and design predictions:
Flared fenders
Full-size spare tire mounted on the tailgate
Upright windshield
Large side mirrors
Stay Up-to-Date on the 2020 Ford Bronco
For more information, contact Auffenberg Ford South Belleville. As an authority on new Ford vehicles near Mascoutah, we're excited to share all we know about this upcoming SUV.