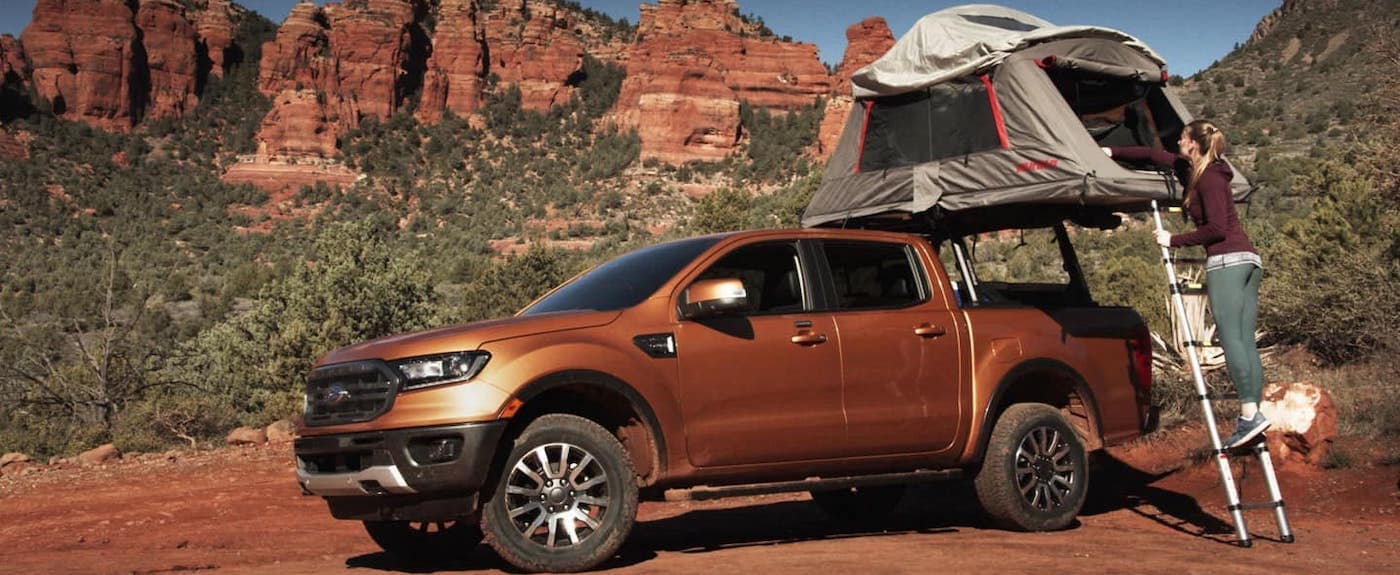 toThe 2020 Ford Ranger bed dimensions remain consistent from the previous model year, with 5-foot and 6-foot options available depending on the cab size selected. Ultimately, how you intend to use your midsize truck in the Waterloo area will influence the Ford Ranger bed size you need. Check out this guide from Auffenberg Ford Belleville for detailed Ford Ranger bed dimensions and information on what you can actually fit as cargo.
Ford Ranger Bed Sizes
As previously mentioned, there are two Ford Ranger bed sizes from which to choose, as well as two cabs. The 6-foot bed, for example, gets paired with the SuperCab, whereas the 5-foot bed is matched with the SuperCrew® cab.
6-foot SuperCab
Inside length: 72.8 inches
Width between wheelhouses: 44.8 inches
Inside height: 20.8 inches
Cargo box volume: 51.8 cubic feet 
5-foot SuperCrew®
Inside length: 61.0 inches
Width between wheelhouses: 44.8 inches
Inside height: 20.8 inches
Cargo box volume: 43.3 cubic feet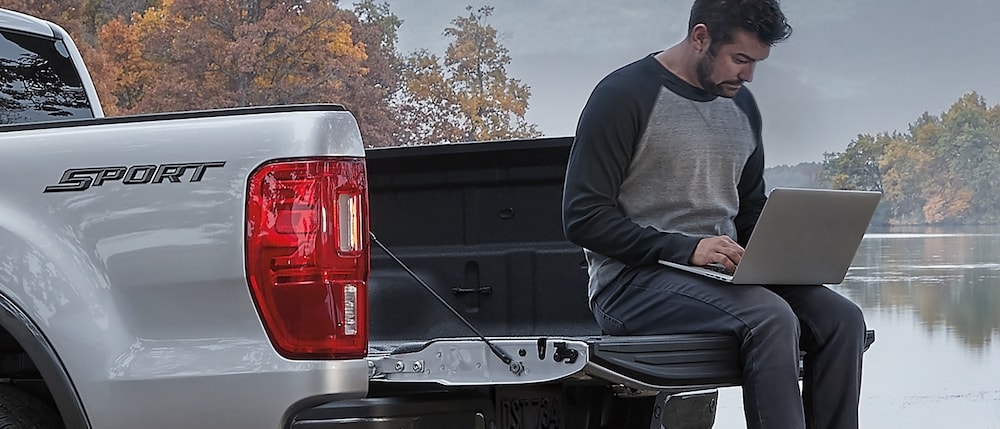 Ford Ranger Cargo Capabilities
Based on these Ford Ranger bed dimensions, what can you actually fit as cargo to haul in and around Mascoutah? Given that this is a Ford midsize truck, you won't necessarily be able to fit full sheets of plywood or steel without them hanging out, or without using a bed extender.
However, either of these Ford Ranger bed sizes prove ideal for household moves, camping in the Belleville area, or loading up 4x4s, dirt bikes, or bicycles for weekend adventures. These beds can also accommodate general equipment at your worksite. Don't forget, either, that the new Ranger has a towing capacity of 7,500 pounds, so you can always hook up a trailer to hold whatever else you need.
Ford Ranger Bed Accessories
Your Ford Ranger bed dimensions also influence sizing for various accessories you can purchase, including:
Bed covers (soft, hard, retractable)
Bed side rails
Bed liners, including the Tough Bed® spray-in bedliner
Pickup box extender
Crossbed toolbox
Other popular Ford Ranger accessories include:
Floor mats
Running boards
Side steps
Splash guards/mud flaps
Consult Auffenberg Ford Belleville for Further Guidance!
Need additional guidance in deciding between the bed sizes for your Ford midsize truck? Drivers from Columbia and beyond can get in touch with the team at Auffenberg Ford Belleville with any questions or to schedule a test drive!