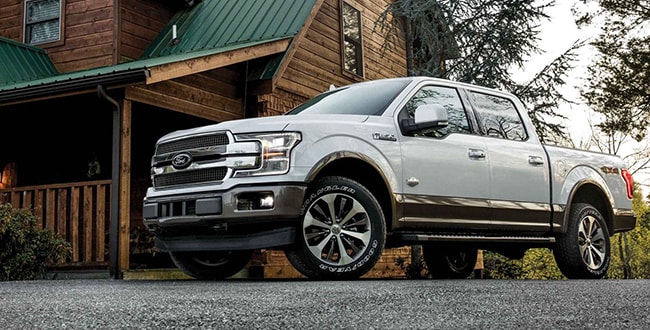 The Ford F-150 has officially been named the Motor Trend Truck of the Year, and we are proud to have it in stock at Auffenberg Ford Belleville. We have to say, though, we aren't too surprised. With all of the rave reviews for the Ford F-150, its available Supercab, its unique aluminum body, and its best-in-class towing, the F-150 is clearly deserving.
What Builds a Winning Truck?
It took a $1 billion risk and a bold new direction to earn the recognition of Motor Trend and for the F-150 to be named the Truck of the Year. What is it that makes this truck the best option for drivers from Mascoutah to Waterloo? Here are some highlights of Motor Trend's praise:
"The XL is a champ with a trailer. It weighed less than the trailer it towed (not to mention the smaller Colorado) but tied for the second-fastest quarter mile while laden and was a handling master on the skidpad."
"The 2.7 is all the engine most folks will ever need, and the steering is shockingly precise."
"We expected the Raptor to dominate the performance tests, but the 5.0-liter is right on top of it."
"You get a nice whoosh from the Raptor's turbos shortly after hitting the throttle and then a rush of power … I love the long metal paddle shifters on the steering wheel. I found myself dropping into Manual mode more often just so I could use them."
Buy Your Ford F-150 at Auffenberg Ford Belleville
The Ford F-150 is ready for you to take home today. Find your Ford F-150 with a low starting price at Auffenberg Ford Belleville – you can schedule your test drive today.