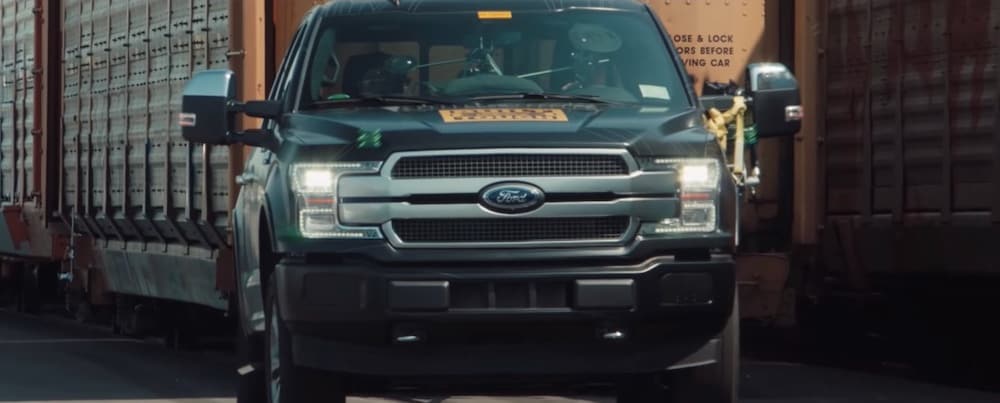 With the excitement growing about the introduction of the electric Ford F-150, many Waterloo-area drivers want to know just what it's capable of. There's this idea that any electric vehicle is going to have as much power as a Prius, but the electric F-150 has the capabilities to tow a train. That's right, the electric Ford F-150 prototype towed a train that weighs 1.25 million pounds. Now that we have your attention, read on to learn more about this train-towing stunt, and stay connected with our dealership for updates on everything to do with the Ford F-150.
How Does the Electric Ford F-150 Tow a Train?
In a recent video advertisement from Ford, a prototype electric F-150 is shown towing a slew of empty train cars, which combine to weigh 1 million pounds. To prove the electric F-150 is even stronger, the crew in the video loads the train cars with new F-150 models, which brings the train's total weight to 1.25 million pounds. The electric pickup then starts again, pulling the hefty load seemingly with ease.
Can the electric Ford F-150 actually pull 1.25 million pounds behind it on the Mascoutah streets? Definitely not, according to Road and Track. But regardless, the stunt certainly proves that the electric F-150 will undoubtedly be powerful.
When Can We Expect the Electric Ford F-150?
Ford has yet to announce a debut date for the electric Ford F-150. However, Ford officials have confirmed that the electric F-150 will come out after the Ford Mustang Mach-E, an electric crossover SUV that will be introduced in 2020 as a 2021 model. 
Ford also hasn't revealed many details about the electric pickup, but we can expect a zero-emission powertrain, as you might have already guessed. At the moment, there aren't any electric-powered trucks on the market, so the electric F-150 will be one of the first available. 
Is There a Hybrid Ford F-150?
As part of Ford's strategy to introduce more hybrid and electric vehicles, the automaker also plans to produce a hybrid Ford F-150. Columbia drivers can look for this model to arrive sometime in 2020, according to a number of sources, although Ford hasn't yet confirmed its release, either.
A significant perk associated with the hybrid F-150 is that the electric battery can be used as a generator for your work or camp site, negating the need to carry a generator with you.
Keep in Touch with Auffenberg Ford Belleville for More Electric F-150 Information!
Stay in the know on all electric Ford F-150 updates as well as our 2020 Chicago Auto Show Ford coverage by keeping in touch with Auffenberg Ford Belleville! Make sure to check out the lineup of new Ford F-150 models if you need a new pickup truck now, and take advantage of our new vehicle specials to save on your lease or purchase! Looking forward to the new Ford Bronco? Get excited for its upcoming release!