Noticing some dents and scratches on your vehicle? Luckily, the Auffenberg Ford Belleville Body Shop can help drivers from Waterloo and beyond get their cars looking brand new again! Depending on the severity of the dent or scratch, you may even be able to take care of them yourself. Here, our dealership provides some simple tips on how to fix a car dent or scratch, as well as recommendations on when it may be time to turn to the experts.
How to Fix Scratches on a Car
Unfortunately, scratches on your car are inevitable when driving and parking around the Mascoutah area-or anywhere, for that matter. Try these DIY tricks to protect or remove scratches on a car: 
Sandpaper: For surface-level scratches, all you need to do is clean the area and rub over the scratch with 2000-grit wet sandpaper. When the scratch is nearly imperceptible, apply a rubbing compound.
Candle Wax: As a short-term solution, rub candle wax over the scratched area to seal it. This will hold it in an emergency to prevent further damage.
Super Glue: Similar to candle wax, super glue temporarily seals the scratch and masks the damage slightly by blending with the vehicle.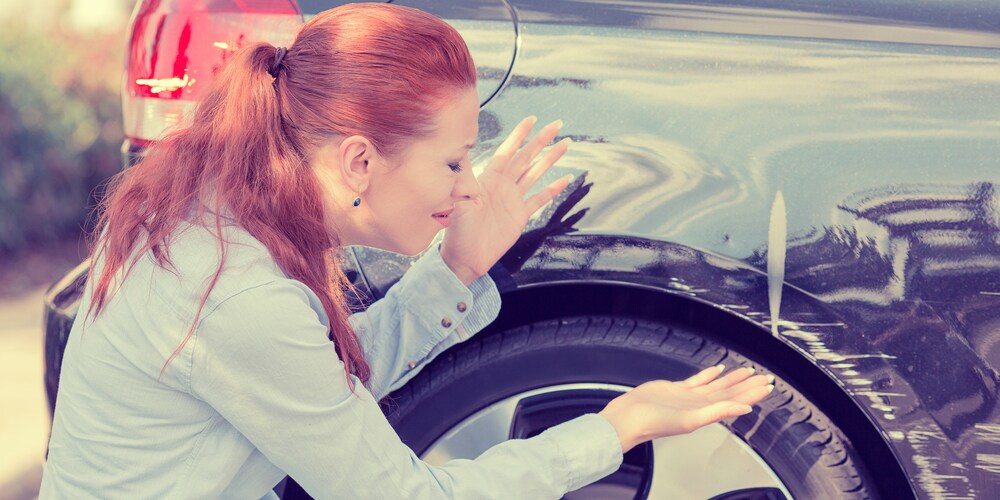 If these remedies don't work, or you need to bring your car in for a more permanent solution to your vehicle's scratches, schedule an appointment with us at your convenience!
How to Fix a Small Dent in a Car
Dents and dings are undoubtedly annoying. Consider these at-home tips to fix a dent in a car:
Plunger: It turns out plungers aren't just for clogged toilets. While you should leave that plunger in the bathroom, there are special dent plungers that can be used to pop a car dent back out at home.
Hammer or Mallet: On the opposite side of the dent, use either of these tools to knock the dented area back into place. A hammer is perfect for smaller dents, and a mallet may be necessary for anything bigger. However, you still need to protect the side that you are working on, so place a towel over the area where you are hammering to minimize damage.
Dent Puller: Only follow this method if you have experience with it, as a dent puller requires drilling a hole in the dent, sliding wire into the hole, and pulling the dent out. After this, you must fill the hole, sand it down, and paint it.
Of course, when in doubt, rely on the Auffenberg Ford Belleville Body Shop!
Why Turn to the Auffenberg Ford Body Shop?
The Auffenberg Ford Belleville Body Shop provides many perks for drivers in the Columbia area. For one, we have the expertise to return your vehicle to prime condition without administering any further damage to your vehicle. We also service all makes and models, and you can trust us to use matching paint and quality tools throughout the process. No matter what you bring to us, whether they're small dents and scratches or major damage, we can have your ride looking like new in a timely and efficient manner.
Schedule Service with Auffenberg Ford Belleville
When it comes to fixing scratches on a car or removing dents, Waterloo drivers know that Auffenberg Ford Belleville can provide long-lasting solutions at competitive prices. For more information and service tips like how often to change cabin air filters, or to make a service appointment, get in touch with us today!