College Student Purchase Program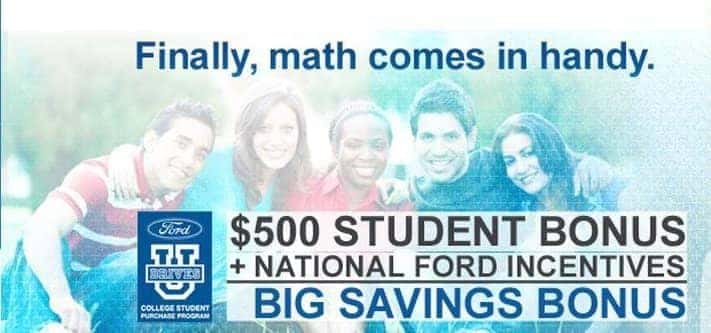 They always told you math would come in handy some day – now Here's the proof.
With the Ford College Student Purchase Program , you pick out your ride – and then add up the savings!
Here's the deal:
Purchase or lease an eligible new 2016 Ford vehicle during the program period and you'll receive $500! And, when you combine this Student Bonus Cash with other current public incentives, you'll really be raking it in.
Here's who qualifies:
All full-time and part-time college freshmen, sophomores, juniors, seniors, graduate students, trade school students and recent graduates. This offer applies to qualifying residents of the United States and is only applicable to sales in the USA.
So what are you waiting for? Ford has a car, truck or SUV to match your own personal style. Pick one out – and find out just how good math can be for you.