Ever wondered, "How long can I drive on a spare tire?" It's always advised to replace your spare tire as soon as possible (Ford Roadside Assistance can help), but the actual mileage you can go in the Waterloo area depends on the type of spare tire you have. A full-size spare, for example, allows for more time and mileage before you get a permanent replacement, but the general rule of thumb is to get a new tire before reaching 70 miles. Learn more about how long you can drive on a spare tire and general tire care advice with Auffenberg Ford Belleville.
Space-Saver Spare Tire
If you end up with a flat tire on the Mascoutah streets and have to make a quick change, you may discover that your spare is smaller than your average tires. This is called a space-saver spare, or a "donut" spare. Keep in mind that the following restrictions typically come with such tires:
Can only drive at speeds of 50 mph or lower
Do not last longer than 70 miles
Offer much less traction than a full-size spare tire
If there are more restrictions on your space-saver spare tire, they will be listed on the tire itself. You will also want to visit our Service Center to repair your old tire or purchase a new one.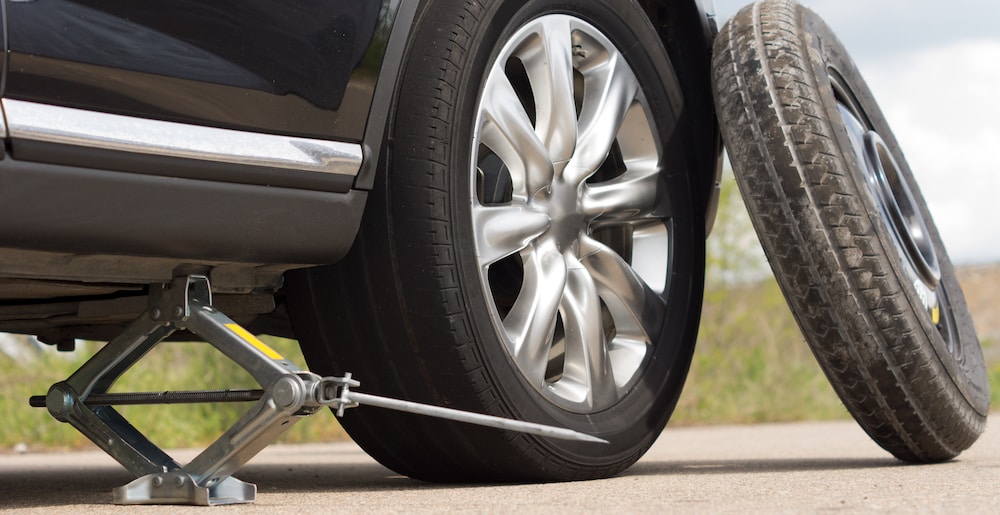 Full-Size Spare Tire
Full-size spare tires are less commonly used, but they sometimes come with new trucks or SUVs. They generally last longer than 70 miles, but even so, you should get the tire replaced as soon as possible. That's because it's not likely to be the same brand as your other tires, and in turn will result in poor traction and handling. Plus, it won't have the same wear as the other tires, making the ride a bit uneven. At this point, we recommend visiting Auffenberg Ford Belleville for a replacement.
What is a Run-Flat Tire?
Even after a puncture, a run-flat tire maintains pressure. In fact, it remains inflated for up to 50 miles following the puncture, and it also proves tougher than either a space-saver tire or a full-size spare tire. However, one disadvantage is that it costs more than a standard tire, so you'll pay more for a full set. It's also important to keep in mind that low tire pressure or a visible puncture on a run-flat tire still means it's important to head out from Columbia to your local service center for repair or replacement.
Connect with Auffenberg Ford Belleville for More Service Advice!
Need more information on tire care or other service advice? Get in touch with Auffenberg Ford Belleville today to learn more service guides like how often to change cabin air filters, or to check out our selection of authentic Ford parts!