How to Check Your Transmission Fluid in Belleville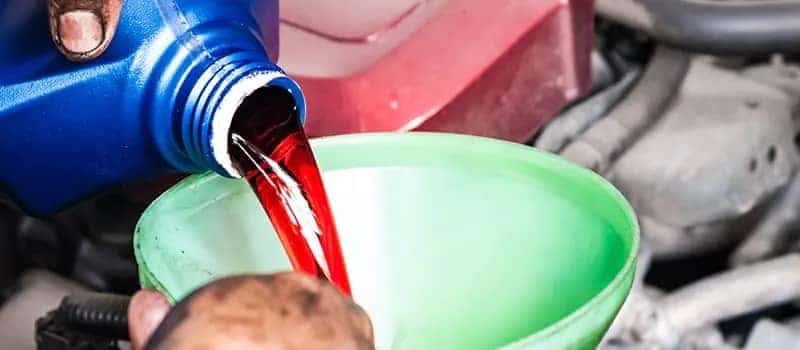 Transmission fluid lubricates the parts of your vehicle's transmission for optimum performance and power when working in Mascoutah or heading off-road far from our Belleville service center. Knowing how to regularly check the transmission fluid in your Ford helps prevent more serious issues, which can be most costly to repair.
5 Steps to Check Transmission Fluid
Turn on your vehicle. You need to warm up the engine to check the level.
Locate the dipstick for the transmission fluid. On front-wheel drive cars, it's typically found to the right of the oil dipstick. Check your Ford owner's manual if you're having issues locating the transmission dipstick.
Remove the dipstick, touch the fluid, and move it around your thumb and forefinger. The fluid should look almost clear with a pink hue. If the fluid is dirty or smells burnt, you should bring your vehicle into your local service center for a transmission fuel replacement.
Wipe of the dipstick with a rag, then return it the vehicle. Pull the stick out once more and check the fluid level. There will be indicators on the stick. If it's under the "Full" marking, you'll need to add more.
Using a funnel, pour in more transmission fluid to bring it up to the correct level. Make sure not to overfill it, though.
How Often Do You Check Your Transmission Fluid?
The main fluid levels of your vehicle should be checked on a monthly basis. That includes your power steering fluid, transmission fluid, and engine oil.
Transmission Fluid Basics
The transmission is one of the most intricate and complex vehicle parts, so before you check your transmission fluid, read these tips:
Not all transmission fluid is the same. There are different types for more recent models, automatic transmissions, and manual transmissions. Your vehicle owner's manual will have a recommendation for the type of transmission fluid you need.
Transmission fluid checks on a manual car usually require the use of a jack to access a plug beneath the car. For most drivers, a visiting our service center near Waterloo is more convenient.
If your vehicle hesitates before shifting gears, it may be caused by low transmission fluid. But this could also be a sign of a more serious issue. Check the fluid level first, but if it's that's not the problem, we recommend scheduling service.
Transmission fluid should be replaced every 50,000 to 100,000 miles. The more specific mileage depends on your driving habits, type of transmission, and other factors, so check your owner's manual for a more specific replacement interval.
Want to Know More About How to Check Your Transmission Fluid?
If you have more questions about checking your transmission fluid, or you want to schedule transmission service, contact us or stop by our showroom in Belleville.