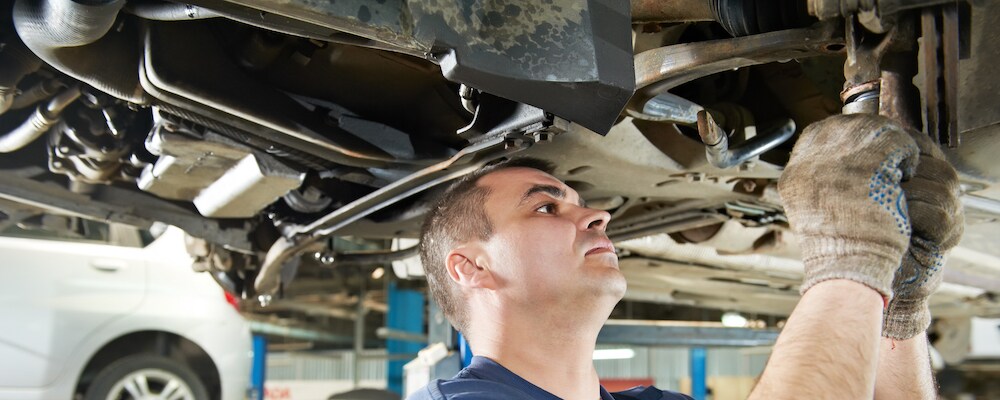 As they are, the Ford F-150 and Ford Super Duty models are formidable presences in the Waterloo area. The same goes for the Ford Ranger. But some drivers want more, and if you're one of them, you should know how to lift a truck. A lift kit is the smart upgrade especially if you plan to venture off the beaten path. Whether you want to do it yourself or have our service team lift your truck, you're already on your way to a new pickup.
What Tools Do I Need to Lift a Truck?
In order to install a lift kit, you will need the following materials:
Vehicle jacks and jack stands
Socket wrench
Torque wrench
Lug wrench
Screwdriver
Pry bar
Hammer
WD-40 or penetrating oil of your choice
Extra nuts and bolts
Keep in mind that this list isn't exhaustive. These items are just the bare minimum. If you know you have these on-hand, keep reading. If not, consider reaching out to our service center to install your lift kit.
How Do I Lift My Truck at Home?
Before we go any further, remember that these instructions do not replace the instruction manual included with your lift kit. Our guide is meant to provide a brief overview of the process to assist as you decide between DIY or professional installation.
Once you have a lift kit appropriate for your specific truck model, here are the basics of how to lift a truck at home:
Detach the negative battery cable.
Use your jack and jack stands to raise your vehicle, paying close attention to the vehicle's center of gravity. Loosen the lug nuts on your tires before doing so, so that they're easier to take off once your truck is off the ground.
Remove the wheels, the old u-bolts, and your vehicle's current shocks and springs.
Assemble any parts according to your kit's directions. Attach the new bolts from your kit, as well as the new shocks and suspension.
Using your torque wrench, tighten all pieces and bolts according to the proper specifications.
Reinstall your current tires (or replace them with a set of larger tires for greater lift).
Install a longer driveshaft, a new transfer case, or any other additional components as required for your lift kit.
Return your truck to the ground, keeping it as level as possible as you go.
Even if you're a confident mechanic, it's good to have an extra set of eyes when doing significant work like this. Once your lift kit is installed, feel free to contact our service center to ensure that everything has been properly fitted and is in alignment before you hit the Columbia roads (or off-roads).
Get Your Truck Lifted at Auffenberg Ford Belleville
As you may have gathered by now, lifting a truck at home isn't necessarily simple. You may feel more comfortable scheduling service with Auffenberg Ford Belleville to have our expert technicians lift your truck for you. When you do, you will have a quicker, easier, stress-free, and likely cheaper experience, and you will be on the roads of Waterloo in your lifted truck in no time. In the meantime, peruse our selection of Ford accessories to determine which lift kit is right for you. Have any questions? Don't hesitate to get in touch!