If you're set on purchasing a Ford F-150 to provide more power, strength, and versatility on Waterloo jobsite, but don't want to break the bank on a new model, then you can continue to achieve that trusted performance with used Ford F-150 benefits. That's why when you're shopping for a used Ford F-150 for sale, Auffenberg Ford Belleville is here to break down everything you need to know to evaluate and assess the many options available so you can find the right Ford truck package that meets your needs. Learn more about how you can benefit from a pre-owned Ford F-150. 
Shopping for Used Ford F-150
As you're shopping for a pre-owned truck like the Ford F-150, there are several things you'll want to keep in mind no matter if you've stumbled upon several strong contenders on the dealership lot or online. These include:
Have Several Used Ford F-150 Modes in Mind: Take a look at which pre-owned Ford F-150 models available as different models released over the years offer variations in performance specs and available features. 
Look at Vehicle Mileage: See how many miles the model currently has so you can compare it with other options and have a better idea of the vehicle's overall condition. 
Avoid Modified Trucks: While the Ford F-150 enables drivers to customize their vehicle, if this was done incorrectly or with outdated parts, this can lead to additional issues down the road. 
Test Drive the Vehicle: Taking a pre-owned Ford F-150 out for a spin while providing a clear indication of how this model performs on rural, suburban, or city roads. 
Have the Truck Thoroughly Inspected: If you want a second opinion on the quality of a used F-150, bring it to a trusted Ford service center where expert technicians can take a more in-depth look at your prospective car. 
Purchase from a Trusted Seller: Buying a used Ford F-150 for sale at a local trusted seller like %%di_name%% comes with additional perks that reinforce the quality of your pre-owned vehicle purchase. This includes access to reliable service and OEM parts, as well as options to enroll in reliable Ford warranty coverage and insurance plans. 
Test Driving a Used Ford F-150
When it comes time to take a pre-owned Ford F-150 for a test drive, you'll want to put together a checklist of features and capabilities to test to ensure this option meets your standards. Here's a list of things you'll want to do when you test drive a Ford F-150:
Test out the Ford SYNC features by pairing your phone to your vehicle and accessing various apps as well as radio and navigation systems. 
Check the ceiling headliner and interior seats for dampness or moisture which can indicate water leakage and mold.
Beware, models that have mud tires and Lift Kits which can alter performance and drain your fuel. 
Check the 4×4 drivetrain system to ensure your vehicle has proper support and handling. 
Feel the steering wheel for any issues with the vehicle's tie rods which can impact things like tire wear and alignment.
Have the car put on a hoist so a service expert can asses for suspension damage, leaks, excessive rust, poor vehicle repairs after an accident, off-road damage, and more.
Inspect the engine and other vital engineering components for optimal performance.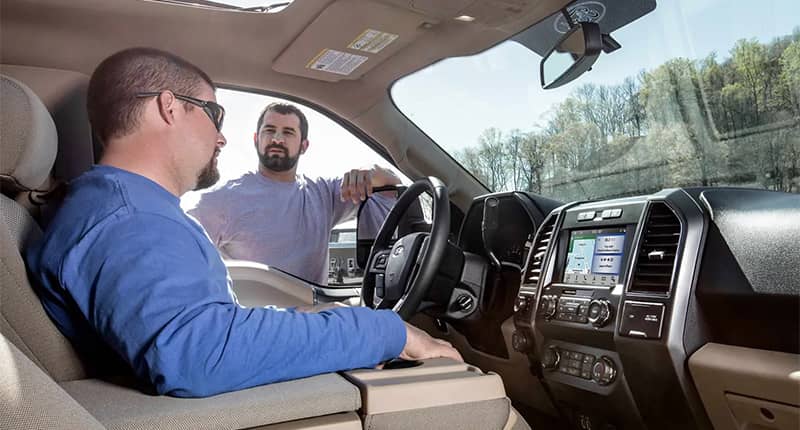 Find a Used Ford F-150 for Sale at Auffenberg Ford Belleville
Now that you've had a look at the used Ford F-150 benefits you can enjoy on Mascoutah roads, you can find a dependable model of your own at Auffenberg Ford Belleville. Explore our inventory to find a used Ford F-150 for sale that meets your driving standards. Our finance team is here to help you start the car buying process, and our service team can ensure your pre-owned vehicle continues to run at its best. Contact us today for more information and to schedule a test drive in a vehicle at our dealership near Columbia!