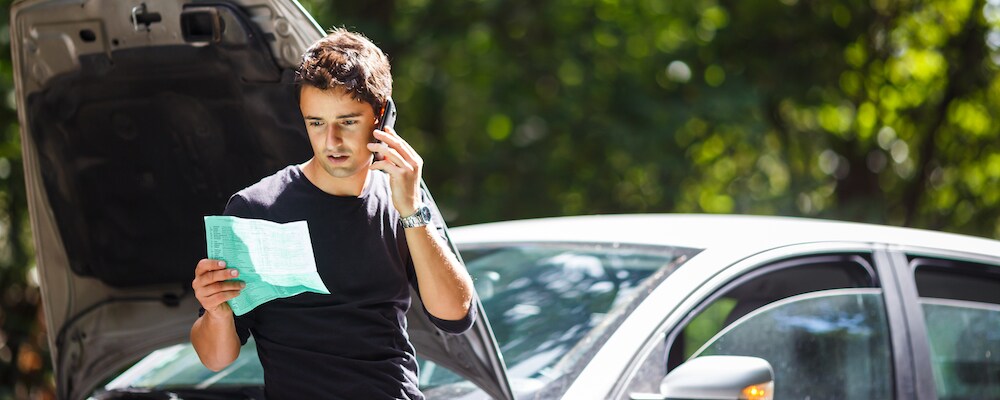 With Ford Roadside Assistance, drivers have extra peace of mind as they drive throughout Waterloo. In fact, this coverage lasts for five years or 60,000 miles, whichever comes first. Wondering what is covered under Ford Roadside Assistance? Find out with Auffenberg Ford South! And remember, our Service Center is here to take care of any more serious problems that arise.
Ford Roadside Assistance Services
Under Ford Roadside Assistance, the following services are covered:
Tire change in the event of a flat tire in or around Mascoutah
Jump start for dead batteries
Car entry for lockouts (charge associated with lost keys/key replacements)
Tow to the nearest authorized Ford dealership within 35 miles ($200 charge for trailer towing)
Stuck car removal if the vehicle is within 100 feet of a paved or county-maintained road
Fuel delivery of 2 gallons of regular gas or 5 gallons of diesel gas
How Do I Get Ford Roadside Assistance?
Curious as to how you can take advantage of all that Ford Roadside Assistance has to offer to Columbia drivers? Well, Ford Roadside Assistance is included with the purchase of any new Ford model. The same is true if you purchase a Certified Pre-Owned Ford model.
Then, if any of the aforementioned troubles arise, you can call the Ford Roadside Assistance phone number at (800) 241-3673 to speak with an agent. Make sure you have the following information available to relay to the agent:
Current location
Vehicle make, model, and color
License plate number
Vehicle Identification Number (VIN)
From there, someone will be on their way to help you out!
What Are the Benefits of Roadside Assistance?
Roadside assistance has saved countless Waterloo drivers when they've found themselves in a pinch. Aside from having service that you can trust when you need it most, Ford Roadside Assistance provides a number of additional benefits. For example, you won't have to pay for roadside assistance through your insurance company, which of course means that you save money.
What's more, Ford Roadside Assistance will reimburse you for tows paid out of pocket if you weren't sure whether or not you were covered. 
Schedule Service with Auffenberg Ford Belleville
When your vehicle needs more than just a quick fix provided by Ford Roadside Assistance, you can turn to Auffenberg Ford Belleville! Make an appointment with us for your next oil change, or consult our expert technicians with any vehicle concerns. We're happy to help however we can!