The wheels of your Ford vehicle are considered some of the most important components overall, which is why it's so important to properly care for them. In order to do so, Waterloo drivers must understand the difference between wheel balancing vs. wheel alignment. Both are routine services handled by the automotive technicians at the Auffenberg Ford Belleville Service Center, yet they aren't one and the same. Discover the difference between the two before you make an appointment with us!
Wheel Balancing Service
Over time, your wheels lose their balance, which is why regular wheel balancing service is crucial. Unbalanced wheels have negative effects on your overall Mascoutah driving experience, as this situation may result in a shaky or vibrating steering wheel. Additionally, unbalanced tires contribute to uneven wear, since one part of the tire is bearing the most weight. This, in turn, will lead to you needing to replace the tires much more frequently than you might otherwise.
Some other benefits of seeking out wheel balancing service include:
Ensuring a smooth ride from your vehicle
Minimizing tire bouncing
Improving traction and control
Extending the life of your tires
Experts recommend having your wheels balanced with each tire rotation, which you should complete every 5,000 to 7,000 miles, depending on the intervals outlined in your owner's manual.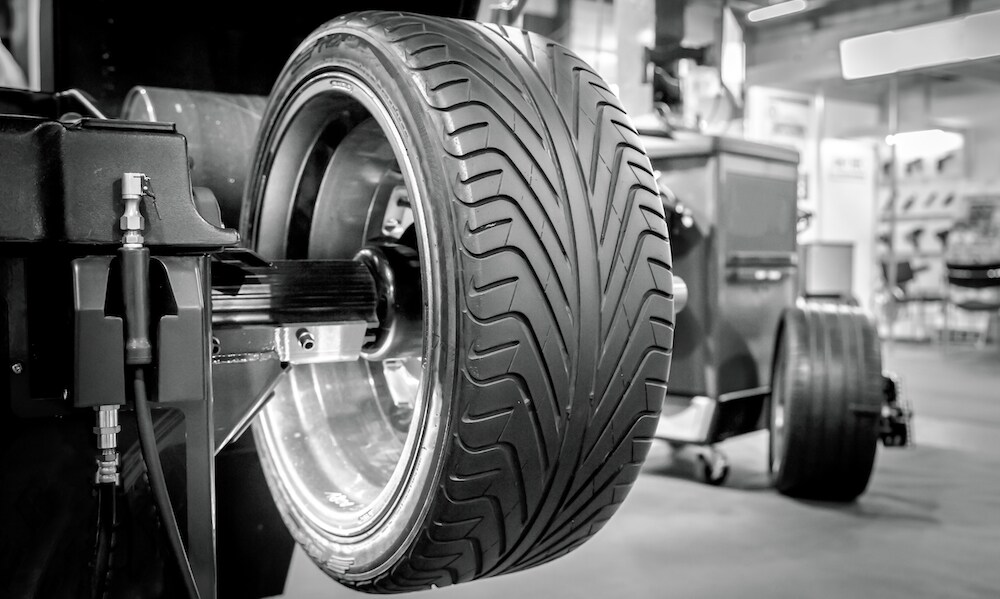 Wheel Alignment Service
When considering wheel alignment and balancing and determining which you need to have done, keep in mind that wheel alignment is only necessary on an as-needed basis. That means it's not part of your routine maintenance schedule. What is wheel alignment service? The service technicians simply ensures that the tires are perpendicular to the road and parallel to each other in order to function properly. Wheels that are out of alignment have a negative impact on your vehicle overall, such as:
Excessive, uneven tread
Unnecessary wear and tear
Steering issues, including pulling
If you notice steering issues, in particular, get in touch with Auffenberg Ford Belleville immediately for service attention.
Wheel Balancing vs. Wheel Alignment: Which Do You Need?
Now that you understand that there's a clear difference between wheel alignment and balancing, it'll be easier to determine which service you need from Auffenberg Ford Belleville. Make your way from Columbia to our dealership in order to get the tire care you require! Check out our service specials to find out how you can save on these services, too.