Ford Blue Advantage: Confidence at Every Turn
Experience the benefits of Ford Blue Advantage! Each Ford Blue Advantage vehicle features a limited warranty, multi-point inspection, 24/7 roadside assistance, and FordPass™ Rewards Points.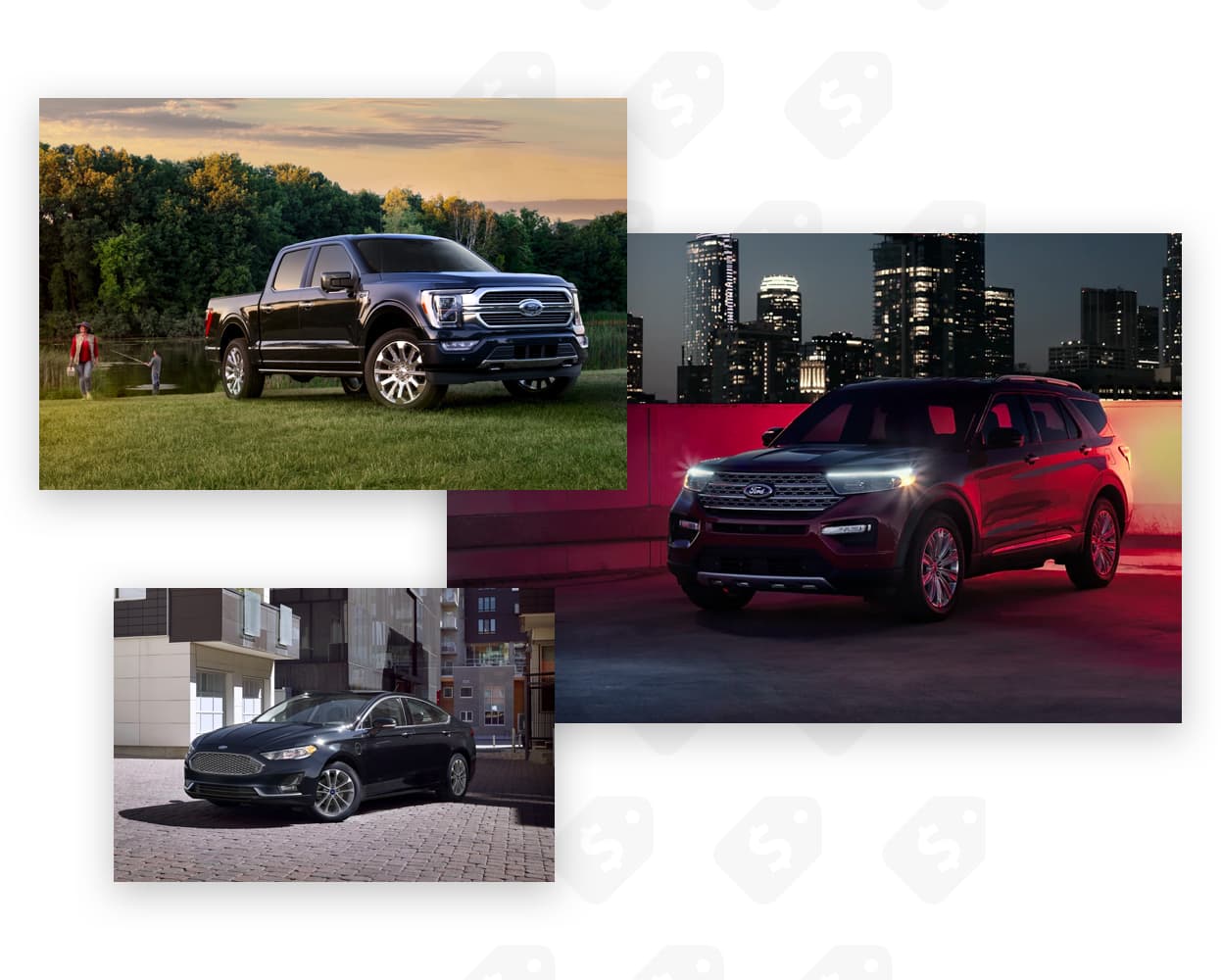 Take Advantage of This Month's Current Offers
Every month Ford releases incredible cash-back offers and special financing rates along with discounts featured in other special programs.
We're Here For You
Auffenberg Ford South Belleville always puts customers first!
Don't take our word for it: Read our reviews and see what everyone is saying.
I?ve now purchased 3 new vehicles threw Auffenberg and ordered a 4th. They really took care of me. I highly recommend them.
I've now purchased 3 new vehicles through Auffenberg and ordered a 4th. They really haven taken care of me. I highly recommend them.
No complaints-- Auto Butler did an excellent job. Service was easy check in and check out.
very Good Charlie always takes care to make sure everything is ready to go.
Very friendly and knowledgeable staff. They take a lot of stress out of purchasing a vehicle! Johnathan Clay is an awesome sales Rep! Would definitely recommend.
I had a slow leak in my right front tire and happened to be close to your service dept.
The waiting time for my vehicle was short. The service was efficient, and the serviceman was courteous. The atmosphere inside of the dealership was clean and comfortable.
Good,fast, efficient and courteous staff no need for any further words. I was completely satisfied.
Wonderful staff and customer service. We have been using Auffenberg in Belleville for that last 6 years. We have purchased 3 vehicles from here and are always happy
I had professional experience service with kindness and knowledge of what my Ford Escape needed. I appreciate they discovered I had a screw in my right passenger side of F my vehicle. All was done in small time frame. Kudos to all the service people who serviced car. I will recommend Auffenberg fir purchase of vehicle as well as services.
My experience with Belleville Auffenberg Dealership has been pleasant, professional, educational and rewarding .
Mr. Jerome West was phenomenal with helping me to find my new vehicle. He showed me all around each of the plaza malls so that I could check all the different males and models. He gave me all of the needed information when I asked about specific vehicles. He helped me find a vehicle tailored to fit my family needs. Last, but not least, He even helped me to achieve a lower rate for the vehicle I wanted. I couldn't be more happy with the service that I received on that day. HAPPY CUSTOMER ♥️
Awesome experience, It was quick and easy process, no haggling and we got the car we wanted.
I absolutely love the great service I get from Auffenberg. Charlie is an excellent salesman.
They were all friendly and professional. Disappointed that they did not offer market value for our trade-in.
Very interested in us. Very fair in offering to buy our car for our purchase of a new Edge.
A/c compressor went out, and then debris damaged everything else with it. My ? advisor? Travis, never kept me informed as to how long, parts , nothing. Everybody else from mechanics to other advisors I don?t have a issue with.the truck works great. ( $2900) later lol
Everyone was so easy to talk with and very knowledgeable and friendly. They didn?t mind my many emails and answered each and every one. Such a great Ford dealership. Such a great experience. They were awesome every step in helping me find the exact new Ford Explorer To my specifications. Go give them a visit. You will be glad you did.
They understood I had a budget. While still a business they didn't get pushy when I wouldn't budge on my limit. They explained everything without being condescending. The salesman we had, Kyle was awesome and found us what we needed.
Very friendly and attentive. Quick oil change. Nice facility to wait in.
Randy was great, we found the car easily as he showed us around and he worked closely with us the entire time. I felt no pressure and he was very helpful in our finding the vehicle that was right for us. He also followed up with us after the sale, which I appreciate.
Everyone was great, smooth process, I ended up leaving with the car I was looking at online the same day. Basically a newer version of my car, with a few extra perks. I had my mechanic friend check her out, ALL GOOD!!! 5 Stars!!!
Louis Martinez was knowledgeable/helpful and very professional Pleasant experience
Highly recommended! Jerome went above and beyond and even came in on his day off to make sure he was there tobhelp is through the whole process. Kyle was excellent as well, as well as Derek, the finance guy. Very nice and helpful all around!
Louis Martinez did an excellent job describing the functionally of the truck, he was professional/courteous and quite knowledgeable and not overwhelming Great Salesperson

Welcome to Auffenberg Ford South Belleville
At Our Belleville Ford Dealership, we Proudly Serve Drivers from East Saint Louis, Fairview Heights, and Everywhere in Between!
While there are many Ford dealers in Southern Illinois, we believe there's a difference between a good car dealership and a great one. Here at Auffenberg Ford South Belleville, we offer a unique advantage over other Ford dealerships in Belleville and St. Louis -- we have a steadfast commitment to you, our customer.
Here at our Ford dealer near Collinsville, IL, we have an extensive selection of new Ford models and affordable used vehicle options. Regardless of what vehicle you need for your Waterloo commute, you can find it at our Belleville Ford dealership! We don't just sell cars, though. If you need routine maintenance or larger repairs before getting back on the Mascoutah or O'Fallon roads, you can drop by our service center at your convenience! Whether your car needs a tire rotation or major repairs, you can count on our Belleville Ford dealership.
When you come to our Ford dealership near Collinsville, you will have a team of Ford brand experts ready and willing to answer any questions you might have about the new model lineup, and arrange a test drive that will allow you to gain your own real-world driving impressions. Call us or visit us today to speak with one of our Ford experts about the new Ford F-150, Fusion, Explorer, Escape, and more.
Find an Affordable Used Vehicle Regardless of Your Budget
Searching for an affordable used vehicle option? Our Southern Illinois Ford dealership offers an extensive selection of used cars for Fairview Heights and East St. Louis drivers. With access to 8 dealerships worth of inventory, drivers trust us to be the used car dealer in Belleville.
We keep a robust inventory of gently used automobiles from a number of popular automakers, so you can find something regardless of your budget! Whether you're searching for a used Ford, we're confident that you'll find the perfect new-to-you vehicle at our Ford dealer near Collinsville, IL.
If you need used-car-buying advice or want to find out whether leasing or financing is the better option for you, then rely on our expert finance department. Whether you are a first-time buyer or a seasoned pro, it's always a good idea to have an extra set of eyes looking out for you when it comes time to sign on the dotted line, and our Auffenberg finance crew is among the best around.
Even After You Drive Off Our Lot in the New or Used Car of Your Dreams, We Still Have Your Best Automotive Interest in Mind
Even after you find the perfect vehicle for your Columbia drive, you'll need to keep up with routine maintenance to keep your ride in prime condition. If you're searching for reliable, expert car service in Belleville, rely on our service department! Whether you need an oil change or major repairs, our team will get your vehicle back on the road in no time. And we offer a complimentary car wash with every visit!
If you have all of your car maintenance and service needs performed at our service center, we will guarantee that your vehicle will be worth at least an additional $500 when it comes time for you to trade it in.
That's because we use only the very best genuine OEM parts and accessories when conducting all maintenance and repairs, so the integrity of your vehicle remains intact year after year.
Interested in learning more about our new and used vehicle inventory, our commitment to customer satisfaction, or the many ways in which we give back to the community that supports us? Visit our Belleville, IL Ford dealership or contact us today and become acquainted with our friendly and knowledgeable team.
Contact Us
Auffenberg Ford South Belleville
901 S. Illinois St
Belleville, IL 62220
Sales:
618-589-8079
Service:
618-418-2262
Parts:
618-418-2343
Directions